Welcome to Omni Foundation for the Performing Arts. We are home to Dynamite Guitars –San Francisco's premier guitar series.
Our mission is to bring the world's finest guitarists to concert in the San Francisco Bay Area.
Learn more about OMNI
Season PDF
DYNAMITE GUITARS 2018-2019
Announcing our 38th Season! 2018-19 Guitar Series On Sale Now!" Subscriptions, Memberships and Pre-order single tickets by phone only. Call 415-242-4500
Season PDF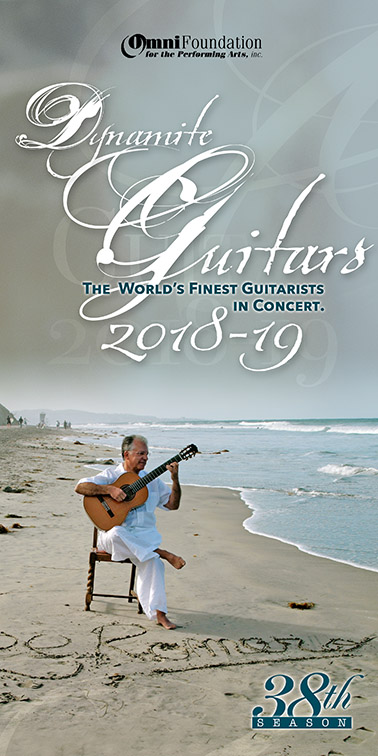 Download Printable ORDER FORM
Download New 2018-19 Season PDF
FACEBOOK | INSTAGRAM | TWITTER
Dynamite Guitars 2018-19 TICKETS
For Pre-Order Tickets, Series Packages and personalized service CALL to ORDER: 415-242-4500
Membership
Become a Member!
Help insure our continued success in bringing the finest guitarists in the world to the San Francisco Bay Area and enjoy the privileges of membership!
Membership
Learn more
2018 RAFFLE WINNERS!
Winners for the 2017-18 Raffle were announced on April 28 during our last concert of the season. The winners are:

Guitar by Hill Guitar Company: Atilla Chanitez
Guitar Salon: Loriente "Clarita" from Spain: Clyde Sugahara
A pair of tickets to any 4 Omni concerts 18-19 Season: Nadim Taleb
Cypress Inn B & B – Miramar Beach, Half Moon Bay: Felix Vergara
Borg's Motel – Lover's Point, Pacific Grove: Orhan Baser
Super Light Guitar Case: Jean Burke
Guitar Solo Productions $100 Gift Certificates: Felix Vergara (4), Grady Sloan, Christine Rand
Four sets of D'Addario Classical Guitar Strings: Felix Vergara (3), Carolyn Koenig
Save
Save
Save
Save
Save
Save
Save
Save
Save
Save
Save
Save
Save
Save
Save
Save
Save
Save
Save
Save
Save
Save
Save
Save
Save
Save
Save
Save
Save
Save
Save
Save
Save
Save
Save
Save
Save
Save
Save
Save
Save
Save
Save
Save
Save
Save
Save
Save
Save
Save
Save
Save