Welcome to Omni Foundation for the Performing Arts. We are home to Dynamite Guitars –San Francisco's premier guitar series.
Our mission is to bring the world's finest guitarists to concert in the San Francisco Bay Area.
Learn more about OMNI
2018-19 RAFFLE Winners Announced!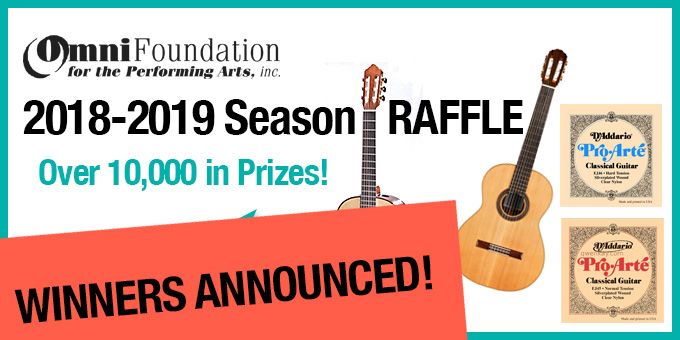 HILL PERFORMANCE SERIES GUITAR   Elizabeth Waters
GUITAR SALON SPANISH GUITAR – Michael Bean
ROMERO CREATIONS GRAND TENOR UKULELE – David Pedersen
CREATE YOUR OWN SERIES OF 4 CONCERTS FOR 2 – Orhan Baser
CYPRESS INN – MIRAMAR BEACH HMB – Bill Wendt
1 SUPER LITE GUITAR CASE  Felix Vergara
6 $100 GIFT CERTIFICATES
1 Roy Auker
2 G. Yukawa
3 Marshall Grossman
4 Dean Silvers
5 Ashlyn Varga
6 Jackie Russum
4 SETS OF D'ADDARIO CLASSIC GUITAR STRINGS (4)
1 Felix Vergara
2 Jenny Ugale
3 Martin Verhoef
4 Rick Sara
FACEBOOK | INSTAGRAM | TWITTER
Membership
Become a Member!
Help insure our continued success in bringing the finest guitarists in the world to the San Francisco Bay Area and enjoy the privileges of membership!
Membership
Learn more
SUBSCRIBE
Discounts up to 20% through September.

CALL 415-242-4500 for info and personalized service.

Save
Save
Save
Save
Save
Save
Save
Save
Save
Save
Save
Save
Save
Save
Save
Save
Save
Save
Save
Save
Save
Save
Save
Save
Save
Save
Save
Save
Save
Save
Save
Save
Save
Save
Save
Save
Save
Save
Save
Save
Save
Save
Save
Save
Save
Save
Save
Save
Save
Save
Save
Save