Judicael Perroy, David Tanenbaum, Lawrence Ferrara, Marc Teicholz, Richard Savino

Saturday, April 13, 2019  7:30 pm
St. Mark's Lutheran Church

The maestros from the prestigious San Francisco Conservatory of Music present 5 mini-concerts. Expect a wide-ranging mix of music performed by an exceptional group of guitarists.

Recognized internationally as an outstanding performing and recording artist, a charismatic educator, and a transcriber and editor of both taste and intelligence, David Tanenbaum is one of the most admired classical guitarists of his generation. He has performed throughout the United States, Canada, Mexico, Europe, Australia, the former Soviet Union and Asia, and in 1988 he became the first American guitarist to be invited to perform in China by the Chinese government. He has been soloist with the Los Angeles Philharmonic, San Francisco Symphony, Minnesota Orchestra, London Sinfonietta, the Oakland Symphony, Vienna's ORF orchestra, with such eminent conductors as Esa-Pekka Salonen, Kent Nagano and John Adams.

David Tanenbaum has been a featured soloist at many international festivals, including those of Bath, Luzern, Frankfurt, Barcelona and Vienna as well as numerous guitar festivals. In 1989, as President of the Second American Classical Guitar Congress, he commissioned five new works, including Rosewood by Henry Brant for a large guitar orchestra. He has subsequently conducted Rosewood more than a dozen times on four continents.

While his repertoire encompasses diverse styles, David Tanenbaum is recognized as one of today's most eloquent proponents of new guitar repertoire. Among the many works written for him is Hans Werner Henze's guitar concerto An Eine Aolsharfe, which he premiered throughout Europe and recorded with the composer conducting, Terry Riley's first guitar piece, Ascención, four works by 1998 Pulitzer Prize winner Aaron Jay Kernis, two pieces by Roberto Sierra, and a suite by Lou Harrison. He is currently working with Terry Riley on a series of 24 guitar pieces. He has toured extensively with Steve Reich and Musicians, was invited to Japan in 1991 by Toru Takemitsu, and has had a long association with the Ensemble Modern. As a chamber musician he has collaborated with, among others, the Kronos, Shanghai, Alexander and Chester String Quartets, dancer Tandy Beal and guitarist Manuel Barrueco. He is currently a member of the Pacific Guitar Ensemble and the San Francisco Contemporary Music Players.

David Tanenbaum's three dozen recordings, which reflect his broad repertoire interests, can be found on New Albion, EMI, Nonesuch, Ars Musici, Rhino, GSP, Albany, Audiofon, Bayer, Acoustic Music Records, Bridge, Stradivarius and others. His 2002 recording as soloist with Esa-Pekka Salonen and the Los Angeles Philharmonic in John Adam's Naive and Sentimental Music was nominated for a Grammy as the Best New Composition. His recording of the complete guitar works of Sofia Gubaidulina will come out on Naxos in June, 2015.

He has produced many editions of guitar music, including the David Tanenbaum Concert Series for Guitar Solo Publications. He has also written a series of three books, The Essential Studies, which analyze the etudes of Sor, Carcassi and Brouwer and compliment his recordings of those works on GSP, and his chapter on the Revival of the Classical Guitar in the 20th Century appears in the Cambridge Companion to the Guitar.

David Tanenbaum is currently Chair of the Guitar Department at the San Francisco Conservatory of Music, where he received the 1995 Oustanding Professor Award, and he has been Artist-In-Residence at the Manhattan School of Music. He is in demand for master classes worldwide. Mr. Tanenbaum's students have won many international competitions, and his former students hold teaching positions internationally.

David Tanenbaum studied guitar with Rolando Valdez-Blain, Aaron Shearer and Michael Lorimer, attending the San Francisco Conservatory and Peabody Conservatory. Further studies included work with pianist Jeanne Stark-Iochmans and harpsichordist Laurette Goldberg. He participated in the 1981 New York master class with Andres Segovia.


"

Both technically gifted and musical to the core."

-Los Angeles Times

Guitarist Marc Teicholz was awarded first prize at the 1989 International Guitar Foundation of America Competition, the largest, most prestigious contest of its kind in the United States. He was also a prize winner at the 1991 New York East-West Artists Competition.


Described by Gramophone as "arguably the best of the new young guitarists to have emerged," and by Soundboard magazine as "among the best we have ever heard," Teicholz's performances throughout the world include tours of the United States, Canada, Russia, Poland, Switzerland, Southeast Asia, New Zealand and Fiji. His recitals and master classes have received critical acclaim, and he has been featured in concert with orchestras in Spain, Portugal, California and Hawaii.

He has also had new works written specially for him. Most recently, Teicholz debuted Clarice Assad's Concerto for Guitar, O Saci-Pererê, at the Biasini Festival in San Francisco. Teicholz tours the United States extensively with The Festival of Four. He is featured on the pilot soundtrack for George Lucas' Young Indiana Jones, and has recorded solo CDs for Naxos, Sugo, Menus and Music, and most recently, Guitar Salon International. His latest solo disc, Valseana, presents works performed on historic guitars of the period of each musical selection.  On Delos records, he has recently released "Open your Heart" with soprano Laura Claycomb, featuring mixed 19th and 20th century composers.

For Naxos, Marc Teicholz has made his mark with two collections of Sor's music already committed to disc. In a show of his versatility, he has also recorded the fifth volume of the collected works for guitar by the 19th Century French virtuoso guitarist and composer Napoleon Coste.

Teicholz, currently on the faculty of the San Francisco Conservatory, teaches in the summer at the California Summer Arts Festival and the Weatherfield Music festival in Vermont. He received his Bachelor's and Master's degrees from the Yale School of Music, and holds a J.D. from the University of California Berkeley Boalt School of Law.

Judicaël Perroy has become widely known as an extraordinary virtuoso classical guitarist and musician with several prizes to his credit. In 1997 he captured the prestigious first prize of the 15th Guitar Foundation of America International Competition and Convention awarding him tour of the United States and Canada with more than sixty concerts and master classes. In between his North American tour that year, he gave several concerts in France where his performances were broadcast live on France-Musique followed by extensive recital tours throughout the world.


Highly sought after and in great demand as a teacher, he is regularly invited to give master classes at many of the top conservatories and universities in the United States and abroad. Mr. Perroy's students have won several top prizes in regional, national and international competitions including Guitar Foundation of America, while emerging as mature and upcoming rising stars of classical guitar and international music scene. Mr. Perroy is currently the Professor at the Ecole Nationale de Musique d'Aulnay-sous-Bois a position which he has held since 2004. He holds the Certificate of Aptitude (CA), and has taught at the Ecole Nationale de Musique Blanc-Mesnil from 1995 to 2004. Furthermore, in winter of 2000, he was the chosen substitute for the chair of guitar department, Steven Robinson, at Stetson University.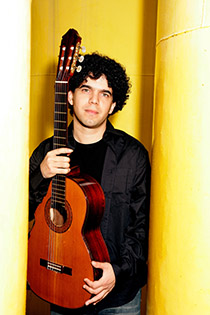 During his GFA victory tour Mel Bay Publications recorded and published his live concert in Lubbock (Texas).  Following his GFA victory tour, a CD recording entitled "Aspen Suite" as well as his earlier CD recording on the French label QUANTUM received high praise and won 5 Diapasons, awarded by Diapason Magazine and was subsequently re-released on Bayard Musique recording label in 2008. He has recorded two new CDs for the collection of Bayard Musique Meditation including a Disc with flutist Florence Bellon and another with harpist Joanna Kozielska. More recently, he recorded an all Bach CD for Naxos label which includes an impressive and unprecedented performance of Bach's second keyboard partita transcription on the classical guitar.

Born in 1973 in Paris, he began playing the guitar at age 7 attending the Conservatoire Municipal Inter-districts of Paris. He studied with Delia Estrada and Raymond Gratien at the Ecole Nationale d'Aulnay-sous-Bois where he graduated with honors.  At age 11, he performed as soloist in two concertos by Vivaldi with Ensemble Instrumental du Mans, under the direction of André Girard and continued his musical studies with Roberto Aussel and Daniel Lavialle. At 14, he won second prize at the International guitar competition of Ile de France. In 1992, he won the grand prize and audience prize at the 15th Concours international de guitare René Bartoli by unanimous jury decision. In 1994, he received Licence de Concert from Ecole Normale de Musique in Paris from Alberto Ponce's class and later that year he was awarded the 1st prize at the 7th International Competition of Bourg-Madame where the final vote was by the general public without any jury. In 1996, he was the first prize winner of his graduating class at the National Conservatory of Music and Dance in Paris (Paris Conservatoire).

He currently resides in Paris while he enjoys teaching at the Pôle Sup' 93, Lille's apPSEA(Association de préfiguration du Pôle supérieur d'enseignements artistiques) Nord-Pas-de-Calais and the Ecole Nationale de Musique d'Aulnay-sous-Bois a position he has held since 2004 while traveling and concertizing around the world.

"His way with the guitar is subtle, intimate, and inherently musical." —The New York Times


EDUCATION
MM San Francisco Conservatory of Music
BM, San Francisco Conservatory of Music

ENSEMBLES
Pacific Guitar Ensemble, 2009–Present
Ferrara-Leisek Duo, 1990–2004

AWARDS AND DISTINCTIONS
Second Prize, Carmel Classic Guitar Competition, 1977, 1978
Runner-up, Toronto International Competition, 1978
Best Online Teaching Website in Music Appreciation, California Virtual Campus Award, 2004

What are your most important collaborations?
Pacific Guitar Ensemble; NEA (National Endowment for the Arts) reviewer; Title Three Grant to develop an online course in guitar and music appreciation
Who are three students you have had the privilege of teaching?
Jon Mendle, Tatiana Senderowicz, and Angelo Favis.
What are your academic publications?
The Student Repertoire Series for Guitar, Volume 1, GSP, 1995
The Student Repertoire Series for Guitar, Volume 2, GSP, 1997
Guitar Study Guide for Beginners
What recordings can we hear you on?
American Guitar Music, VGO 
Begin, GSP
 One's Face, Oasis Records
 Sailing Among the Pheomones, Koch Records

Grammy nominated Guitarist/lutenist Richard Savino has been a featured performer throughout the US and abroad.  He has been Visiting Artistic Director of the Aston Magna Academy and Music Festival (1993, 1995, 2005, 2009, 2010), the Connecticut Early Music Festival (2002), Ensemble Rebel (2010)and from 1994 – 1997 was Coordinator of Performance Practice at the Monadnock Music Festival in New Hampshire. He is the recipient of a Diapason d'Or (a French Grammy) and in 2010 his collaborative project with Ars Lyrica of Houston also received a Grammy nomination. In 2012 he was personally invited to accompany Grammy award winner Joyce DiDonato in her national Drama Queens tour, which included a sold out performance at Carnegie Hall. In 2013 was invited to perform solo at the first New York Tribute to Andres Segovia concert at the 92 St. Y.


From 1987 – 1998 Mr. Savino has directed the CSU Summer Arts Guitar and Lute Institute and is presently director of Ensemble El Mundo. An active opera enthusiast, Mr. Savino has been principal theorbist/lutenist for the Santa Fe, Glimmerglass, San Diego, Dallas, Denver, Central City, Portland, San Francisco and Houston Grand Operas. Early in his career Mr. Savino was chosen twice by Maestro Andres Segovia to perform in master-classes at the Conservatoire de Musique in Geneva, Switzerland, the Metropolitan Museum of Art in New York, and twice at the International Segovia Fellowship Competition sponsored by New York University. In 1985 he became the first solo guitarist to be chosen a winner at the Artists International Carnegie Recital Hall Debut Competition.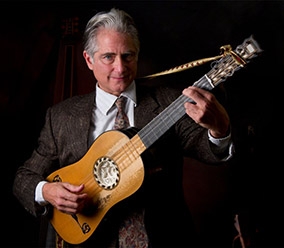 His extensive discography of over 30 cds as a director, soloist or principal performer on the Harmonia Mundi, Naxos, Koch, Stradivarius and Dorian labels includes the first period instrument versions of Luigi Boccherini's guitar quintets (3 cd's), Mauro Giuliani's Grand Quintetto and Johann Kaspar Mertz's Bardenklänge, all of which have received great critical acclaim.  In addition to receiving a 10 du Rèpertoire (a French Grammy) the Parisian journal has also placed his Boccherini recordings in their "Great Discoveries" category, which they deem as essential to any classical music collection. He has recorded virtuoso sonatas by Paganini and Giuliani with British violinist Monica Huggett (HM), flute and guitar sonatas with renowned flutist Laurel Zucker (Cantelina), solo sonatas by Ferdinando Carulli, an extensive collection of 18th century guitar music from Mexico by Santiago de Murcia (4 Stars: Goldberg), a collection of monody by Barbara Strozzi with soprano Emanuela Galli and Ensemble Gallilei, (9 du Rèpertoire) and music by Biagio Marini with Monica Huggett and Ensemble Galatea. Koch International has also released his recording of the first period instrument versions of the Boccherini Guitar Symphonia, the Op. 30 Concerto for Guitar by Mauro Giuliani with Ms. Huggett and the Portland Baroque Orchestra.  Mr. Savino's cd of Murcia was featured as the Global Hit on thePublic Radio International program The World, and he has also been the subject of a one-hour special on the PRI program Harmonia.

His most recent recordings include The Essential Giuliani Vol. 1, ¡Zarzuela; Salir el Amor del Mundo! and The Kingdoms of Castille with El Mundo, and a cd of baroque guitar sonatas by Ludovico Roncalli (1696). Mr. Savino has appeared on the CBS and PBS television networks, has been heard "in recital" on National Public Radio's Performance Today, Morning Pro Musica, Off The Record, England's BBC and the CBC's Music from Montreal and Music from Vancouver programs and has been the subject of a one hour special on the NPR's Harmonia. He is contributing author to the Cambridge University Press Studies in Performance Practice series, has edited the complete studies and études of Fernando Sor for Editions Chanterelle and a collection of secular monodies by Francesca Caccini for Indiana University Press.  In 2008 Mr. Savino participated in a series of concerts and a cd/dvd recording project with the renowned vocal ensemble Chanticleer, which featured music from historic missions throughout California. In 2011 he has performed throughout North America, lectured at Cambridge University, and guest directed Milano Classica.

Mr. Savino has studied with Oscar Ghiglia, Eliot Fisk, Albert Fuller, and received his Doctor of Musical Arts degree from SUNY at Stony Brook where he studied under Jerry Willard. He is presently a Collegiate Professor at the San Francisco Conservatory of Music and Professor of Music at the California State University at Sacramento where in 1994 he was the first member of the music faculty to be awarded an Outstanding and Exceptional sabbatical, in 1996 became only the seventh CSUS faculty to receive the prestigious Semester Leave Research Award and in 2001 was granted a Best Sabbatical Award.

Save

Save

Save

Save

Save

Save

Save

Save

Save

Save

Save

Save

Save

Save

Save

Save

Save

Save

Save

Save

Save

Save

Save

Save

Save

Save

Save

Save

Save

Save

Save

Save

Save

Save

Save

Save

Save

Save

Save

Save

Save

Save

Save

Save

Save

Save

Save

Save

Save

Save

Save

Save

Save

Save

Save

Save

Save