Dynamite Guitars 2nd Edition
Saturday, April 21, 2018  7:30 pm
Herbst Theatre  $35/$45/$55

An explosion of talent and virtuosity featuring JOE ROBINSON, BADI ASSAD, OLLI SOKKELI and CESAR GARABINI. This will be a great one!

Twenty-six-year-old Australian Joe Robinson is considered uniquely gifted as a virtuoso guitarist and singer/songwriter. He walks a tightrope between the instrumental music that has put him in the spotlight and a unique fusion of vocally based rock, blues, jazz, and R&B that is entirely his own.

"Once in a great while a young guitarist captures the attention of music lovers early in his career and manages to sustain this interest as he matures creatively and sheds the 'prodigy' label. Joe Robinson is one of those rare talents."
– Premier Guitar

Born in the backwoods of Temagog, on the mid-north coast of New South Wales, Australia, his six-string ability and compositional insight have already earned him a worldwide following.

Robinson started playing guitar at age nine, abandoning the piano lessons he'd been taking for the past three years. He quickly outpaced his guitar instructor and began educating himself via the Internet. At age 11 he was a touring guitarist and at just 13 years old, he won the Australian National Songwriting Competition. Within a couple of years he was touring regularly and sharing stages with artists such as Tommy and Phil Emmanuel, both of whom served as mentors. He released his first album of original material, Birdseed, in 2005 at age 15.

When a 16-year-old Robinson burned through a Chet-inflected medley of "Day Tripper" and "Lady Madonna" at the opening round of the 2008 Australia's Got Talent television series competition, the entire house—including the judges—gave him a standing ovation. He went on to win $250k with his take on Tommy Emmanuel's arrangement of "Classical Gas."

Tommy Emmanuel then invited him to Nashville, where among other things he hooked up with Brad Paisley's producer Frank Rogers, who helmed his 2009 release, Time Jumpin'. That same year, Robinson was awarded the title of "Senior Grand Champion Performer of the World" at the World Championships of Performing Arts in Hollywood. He has also performed at Bonnaroo, and was voted "Best New Talent" in the Guitar Player Readers' Poll. In 2017, Robinson and his talents were noted in a big way by Guitar Player as part of a cover story entitled "Youthquake 2017: Ten Mind-Blowing Young Guitarists." In the article, the magazine observes that Robinson is "equally mind-blowing as an acoustic fingerpicker and electric soloist…his YouTube videos display an astounding combination of taste, speed, cagey phrasing, and a clear, articulate, and sparking tone."

Robinson has spent the last few years touring North America and abroad (China, Japan, Europe, and Australia) playing festivals and headlining clubs, which has enabled him to define himself as a budding world visionary. Displaying his virtuosity on electric as well as acoustic guitar, Robinson landed a coveted spot as one of Australian Guitar Magazine's Top 50 Best Guitarists.

Robinson's Let Me Introduce You … (Joe's Garage), produced by Rogers and released in 2011, found Robinson accompanied by an all-star team of musicians including drummer Keith Carlock, bassists Michael Rhodes and Bernard Harris, keyboardist Gordon Mote, percussionist Eric Darken, and background vocalist Hershel Boone. The result is a record replete with catchy melodic hooks, sophisticated pop progressions, soulful vocals, and superb guitar playing that encompasses influences from Sweet Baby James to Django. "I've been meaning to make an album like this from the start," Robinson said. "So, after spending years touring as a solo instrumental guitarist, I wanted to push myself in another direction."

This ultra-talented Australian's unique musical sensibility, thoroughly modern guitar tones, and tenor voice are at the core of the self-penned songs about communication and self-realization found on his EP, Gemini, Vol. I (2014), which followed 2012's vibrant EP, Toe Jam. Experimenting with electronic looping, junk percussion and even a toothbrush scrub, Robinson's one-man-band approach used on the self-produced Gemini, Vol. I helped to create his new sonic landscape. Jacquire King, a three-time GRAMMY Award-winning mixer,
put the final touches on the recording.

"I wanted to call the project Gemini because I learned so much about myself while recording these songs," Robinson says. "Being creative and expanding my scope helped make sure the voice I'm listening to is the one that's inside of me. When I listen to that voice, I know I've got something unique and genuine to say."

"Since day one, I found it easier and more intriguing to create songs rather than learn existing ones, so the compositional element of my music is somewhat deep-rooted," Robinson says.

After touring as a soloist for quite some time, Robinson toured predominately with his own trio before committing to a new solo show featuring both electric and acoustic guitar (sometimes both at the same time). This amazing new show is touring now.

His latest music project, Gemini Vol. 2, is a four-track EP released in 2015 that features his deepest and most creative work to date. Robinson played all the instruments, produced and mixed the project.

In addition to extensive touring on his own in 2016, Robinson toured with Guitar Army, which featured fellow master guitarists/singers/songwriters Robben Ford and Lee Roy Parnell. In 2017, Robinson joined guitar greats John Jorgenson and Lee Roy Parnell in Guitar Army. The all-star trio is touring and recording music together.

Robinson, who is currently writing for a highly awaited new solo album expected to be released in 2018, has continued a busy tour schedule in 2017, with several solo dates, and shows with Tommy Emmanuel, Rodney Crowell, and Edwin McCain.

What Others Are Saying About Joe Robinson:

"Australian guitarist Joe Robinson has accomplished what most musicians can only dream of." – NPR

"Robinson's technique is dazzling — his bluesy licks go by in a blur, and his harmonic savvy is apparent in every chord he plays." – Nashville Scene

"It's not hard to imagine him rivaling the popularity of, say, John Mayer in coming years." – Washington Post


Brazil's

Badi Assad

is one of the most innovative, passionate and talented Artists of all times and is lauded as one of the world's most unique and cross-transcendental performance artists of this generation. She transcends traditional styles of her native Brazilian music with a mixture of pop, jazz and world/ethnic sounds from around the world. As a result, the extraordinary singer, guitarist, and percussionist is successfully forging an exhilarating genre of music that quite literally defies categorization.

What makes Badi Assad so unique is her hungry pursuit of performance experimentation that no other artist has done: She combines an extraordinary guitar talent, a unique mouth percussion, beautiful singing, combining a rhythmic body movement, to create an exciting, fresh music sound, and leaving spectators… simply… BREATHLESS. Indeed, watching Badi perform is like witnessing a spiritual phenomenon. How she does what she does all at once, and delivering an extraordinary performance, is quite unbelievable.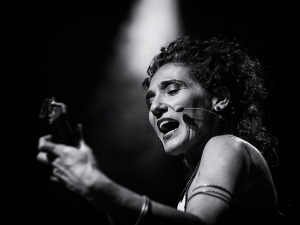 As a singer, Badi is vibrant and electric, responding to her inner passion with deft creativity. As a guitarist, she has inspired audiences and critics worldwide with a unique combination of technical mastery and innovation that has caused many to re-examine their notions about the instrument. Through it all, Badi's adventurous spirit and buoyant personality have become an integral part of her music.

Badi Assad was born in the small city of São João da Boa Vista, São Paulo, Brazil. Her early years were spent in Rio de Janeiro, where the family moved to support and develop the budding talent of her brothers, Sérgio and Odair, the famous classical guitarists 'Duo Assad'.

Watching her brothers' musical development had its effect, and her introduction to music came at her mother's urging. "I began to learn piano when I was eight, but all we could afford was a little electronic Yamaha which was made for kids, and I practiced on it until my hands outgrew the keyboards." Her guitar studies began in earnest at age fourteen, playing with her father, an amateur mandolin player. Within that year, she won her first competition at the "Concurso Jovens Instrumentistas for Young Musicians", in Rio de Janeiro/1984.

In 1987, at only 17 years old, she was named "Best Brazilian Guitarist of the International Villa Lobos Festival." A year later, Assad recorded her first solo album, entitled Dança dos Tons which was released only in Brazil. Soon after, Badi was selected out of two hundred women to perform as one of two vocalists in the play Mulheres de Hollanda. The theatrical collage of songs by Brazilian composer Chico Buarque ran five days a week for over a year garnering rave reviews for Badi's looming star potential in the process.

Badi began to experiment even further with her voice. It is at this point mouth percussion and rhythmic body percussion became part of this exploration. These elements were intuitively combined with her already impressive guitar approach thus creating excitingly fresh sounds that complemented her vision as musician and performer.

Just as Badi's innovative new direction began to emerge, opportunities began to present themselves; with 1994 came her association with the independent label Chesky Records. Her first album, entitled Solo, introduced Badi as a potent force in the guitar world. Her international stature grew with the release of her second album "Rhythms" in 1995. In fact, Rhythms was lauded as one of the most important guitar recordings of that year. The album won Guitar Player Magazine's Readers' Poll for "Best Classical Album of the Year" (The Guitar Player editors jokingly commented: "not a classical album but played on classical guitar…close enough!"). In addition, she was voted "Best Acoustic Fingerstyle Player" by Guitar Player magazine's editors.

Assad fulfilled her Chesky contract with 1996's beautiful anthology of Brazilian guitar composers appropriately entitled Echoes of Brazil. Then in 1997, Badi was quickly signed to her first major label contract with PolyGram. The result is the ambitious and critically acclaimed ethno-pop soundscapes of her sophomore album, Chameleon and the WORLD was ready for her.

Badi Assad, with Chameleon, took Europe by storm. Her breathtaking appearance on the French night-time talk show Canal+ was seen by over two million viewers leaving the hosts speechless and the studio audience on their feet! In July 1998, Badi played Europe's most renowned summer festivals sharing the stage with such artists as Cassandra Wilson, Joe Cocker, Maria Joao and fellow Brazilians Chico Cesar, Marisa Monte, and Gilberto Gil. The single, Waves, landed in Spain's Top 10 for many weeks and was later included in the soundtrack of the Hollywood movie It Runs in the Family, starring Michael and Kirk Douglas.

In 2003 she recorded 3 Guitars with the jazz masters Larry Coryell and John Abercrombie, for her former label Chesky Records. In the same year she released Ondas, for GHA, a record label in Brussels, Belgium.

In 2004 she signed with the acclaimed German company Deutsche Grammophon, releasing 2 albums: Verde (2004) and Wonderland (2006).

As Badi loves to recreate songs, she brought in Verde a bossa-nova style to 'One' by U2, a tango flavor to 'Bachelorette' by Björk; and for Wonderland she brought to her own world songs by Eurythmics, Vangelis and Tori Amos among others.

Wonderland was selected among Britain's BBC 100 best CDs, and it was also included among Amazon.com's Best 30.

In 2010 Badi released her first DVD Badi Assad, which she and her husband Dimitri Vakros co-produced, and directed by Badi's talented nephew Rodrigo Assad (son of Sérgio Assad). This DVD displays Badi's extraordinary live performance experimentation. In the same year Badi was Featured Performer (actress/singer) in the Opera-Musical Opera das Pedras, in São Paulo, Brasil, directed by Denise Milan and Lee Breuer (Mabou Mines).

In 2011 Badi started a new project with her brothers Sérgio and Odair plus their daughters Clarice and Carolina, as a Quintet. They have been touring the world.

In 2012 Badi made her first trip to India at the invitation of the Brazilian Embassy in a side event of the visit of the Brazilian President Dilma Rousseff at BRIC countries meeting. In July She traveled to Italy to be part of the 'Venice Biennale of Dance', performing live with the acclaimed dance company from Bahia BTCA (Bale of Theater Castro Alves).

In November Badi released her first independent and authorial album Amor e Outras Manias Crônicas, through her own label 'Quatro Ventos. With this project She conquered the award of Best Composer of The Year (APCA/BR) and was selected among the Brazilian guitar masters of history (Rolling Stones Magazine).

Badi already worked with artists such as Bob McFerrin, Yo-Yo-Ma, Sarah McLaughlin, Seu Jorge and already performed in some of the most prestigious international festivals like 'North Sea Jazz Festival' (NE), 'Brosella Folk & Jazz Festival' (BE), 'Stimmen Festival' (CH) and theaters like 'Paris Opera (FR), Palais de Beaux- Art (BE), Metropolitan Museum (NY)… She also represented Brasil in the acclaimed American Festivals "Farm Aid" and "Lilith Fair'/US. Each review of her concerts and albums holds the air of discovery; of a new voice for the guitar; of admiration for Assad's innovation and unusual music delivery. According to the Los Angeles Times, "Badi Assad redefines solo (guitar) performance! Revelatory, a brilliant display of innovation, imagination, and skill… almost hypnotically compelling!"

O

lli Soikkeli

was born in Nurmes, Finland in 1991. Now based in New York City. He started playing guitar at age of 12. After a few years of playing Olli was introduced to the music of greatDjango Reinhardt and Gypsy Jazz has been Ollis main focus ever since. Soon Olli was playing in jazz clubs and festivals all around Finland. After touring all around Europe with musicians such as Paulus Schäfer and Arnoud Van Den Berg Olli decided to move to New York City in 2014. Olli has played legendary venues such as Birdland Jazz Club, Blue Note and the Lincoln

Despite his young age he's already played with stars such as Bucky Pizzarelli, Stochelo Rosenberg,Tommy Emmanuel, Andreas Öberg,Cyrille Aimee, Anat Cohen, Antti Sarpila and Marian Petrescu.Center.

In 2011 Olli recorded his first album"Trois Générations" with Hot Club de Finlande and Vitali Imereli and in 2012 he recorded his second album "Kouvola Junction" with Paulus Schäfer and Arnoud van den Berg.

2014 Rhythm Future Quartet's debut album was released. 2016 Rhythm Future Quartet's second album 'Travels' was released which received rave reviews including Best albums of 2016 by Huffington Post and All About Jazz magazines.

The Wall Street Journal wrote: "Olli Soikkeli, a riveting finnish guitarist who combines astonishing dexterity and speed with pure soul in a way that places him among the worthiest current day successors to the legacy of the great Django."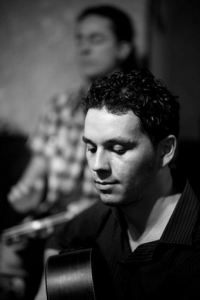 Hello to everyone! My name is

Cesar Garabini

, and I am an Italo-Brazilian guitarist. I was born in Minas Gerais, Brazil on the 25th of August 1987. I lived in Brazil until the age of 5, when I moved with my parents to New Jersey, USA. There I went to school and learned English. In 1998 at the age of 10, my parents and I moved back to Brazil where I continued school, perfected the Portuguese language and had my first contact with Brazilian music. In 2005 at the age of 17 I moved with my parents to Florence, Italy, where I learned Italian, worked in countless different jobs, and started practicing the classical guitar as a hobby.

Since I first heard the sound of the guitar, it has always been my passion, and since the beginning, everything I know in music was discovered by myself through a lot of listening, jamming, and performing. in 2009, I finally started putting together samba, bossanova and chorinho bands in Italy. I have performed in most music bars, restaurants and stages in Florence, and in many other venues troughout Italy. In February of 2011, I decided to come to New York City to expand my musical knowledge.

I play the classical 6 and 7 string guitars with styles like; samba, choro, bossanova, baiao, forrò, waltze, classical, MPB (musica popular brasileira), Portuguese "Fado" and more.

Now, I am playing in many NYC venues with many formations such as solo guitar, guitar+pandeiro, guitar+singer, guitar+mandolin/flute, in samba, choro, and bossa nova bands.


BUY TICKETS
TICKETS
Dynamite Guitars 2nd Edition

BUY TICKETSSaturday, April 21, 2018  7:30 pm
Herbst Theatre  $35/$45/$55

Call 415-242-4500 for personalized service.

Save

Save

Save

Save

Save

Save

Save

Save

Save

Save

Save

Save

Save

Save

Save

Save

Save

Save

Save

Save

Save

Save

Save

Save

Save

Save

Save

Save

Save

Save

Save

Save

Save

Save

Save

Save

Save

Save

Save

Save

Save

Save

Save

Save

Save

Save

Save

Save

Save

Save