Grisha Goryachev and Andrea De Vitis
Saturday, March 24, 2018  7:30 pm
Green Room  $45

The D'Addario Performance Series

A program of contrasting guitar styles featuring flamenco wizard Grisha Goryachev and award winning Italian classical guitarist Andrea de Vitis.

A native of St. Petersburg, Russia,

Grisha Goryachev

is renowned for his extraordinary musical sensitivity and technical virtuosity in both classical and flamenco styles. Grisha is one of very few guitarists in the world who is reviving the tradition of solo flamenco guitar in a concert setting that was practiced by legendary flamenco masters such as Ramón Montoya and Sabicas.

Grisha strives to keep alive older flamenco masterpieces that now exist only on records, by performing them in concerts. Instead of merely copying, he creates his own interpretations of these masterpieces, using dynamics and tone colors usually associated with classical guitar.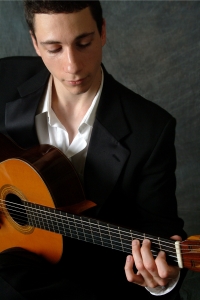 Grisha began playing guitar at the age of six, studying first with his father Dmitry, an acknowledged master teacher of the instrument. At nine years old, Grisha started his performing career as a child prodigy. His numerous performances before large audiences in the most prestigious concert halls in the Soviet Union were highly praised. Following a tour of Spain, Grisha was invited to play for flamenco legend Paco de Lucía, who soon after personally intervened in support of his application for an American visa, which was awarded in 1997 on the basis of "Extraordinary Ability".

In May 2005 Grisha was awarded the prize for Best Performance of Spanish Music at the VI International Classical Guitar Competition "Julian Arcás" in Almería, Spain. Grisha received his Bachelor, Master and Doctor of Musical Arts degrees from the New England Conservatory of Music in Boston, where he studied under famous guitar virtuoso Eliot Fisk. He was one of the 30 people in 2006 to become a fellow of the distinguished Paul & Daisy Soros Fellowship, recognizing him as exceptional in his chosen field. Since his immigration to the United States, Grisha has toured extensively in the states and abroad as a performer, instructor, and judge for many prominent festivals and venues. A firm believer in exposing the young generations to the beauty of classical and flamenco guitar, he likes to include Outreach performances and workshops at schools as part of his concert tours. Grisha's YouTube videos have collected over two million views and many notable comments. Grisha recorded two CDs: "Alma Flamenca" and "Homenaje a Sabicas".

A

ndrea De Vitis

is considered one of the most talented guitarist of his generation. Born in Rome in 1985, he began his musical studies in Rome with Marco Cerroni; he graduated with honors from the Perugia Conservatoire in the class of Leonardo De Angelis. He continued his studies at Segovia Guitar Academy (Pordenone, Italy) with Paolo Pegoraro and Adriano Del Sal; he attended masterclasses with Carlo Marchione, Oscar Ghiglia, Arturo Tallini, Pavel Steidl, Frédéric Zigante,  David Russell, Carles Trepat among others.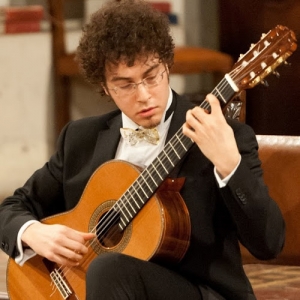 He has performed in prestigious concert halls all over the world (Usa, Russia, Spain, Austria, Germany, Belgium, Netherlands, Poland, Hungary, Czech Republic) and his recitals have been acclaimed by audience and press. He regulary plays with orchestras such as Aukso Kameralna (Poland), Anima Musicae (Hungary), Orchestra classica di Alessandria (Italy).

He is frequently asked to teach masterclasses in prestigious guitar festivals (Forum Gitarre Wien,  Poznan Music Academy, Maastricht Conservatorium, Copenaghen International Guitar Festival, Zory International Guitar Festival, Stuttgart International Guitar Festival).

In the last 3 years he won more than 35 prizes in many international competitions. Among the most important are: first prize at Guitar Masters 2016 in Wroclaw, Certamen Internacional "Julian Arcas" de Almerìa, Forum Gitarre Wien, Iserlohn International Guitar Competition, Budapest International Guitar Competition, Kutna Hora International Competition, Gargnano International Competition, Gorizia International Competition, Mottola International Competition; second prize at Guitar Foundation of America, "Frauchi" International Competition in Moscow (first prize not assigned), "Pittaluga" International Competition (first prize not assigned).

As a recognition of his artistic merit, in 2013 he received the "Golden guitar award" for the best up-and-coming guitarist of the year at the 18th International Guitar Convention ""Pittaluga" held in Alessandria (2013).

His debut album "Colloquio with Andrés Segovia" (DotGuitar web label) gained a great success with both critics and audience and it received the"Golden guitar award"for the best cd of the year at the 22th International Guitar Convention "Pittaluga" (2016).

Andrea De Vitis plays a guitar made by Walter Verreydt (Belgium) and he is a D'Addario Artist.

"Spectacular concert" (Cultura Elche, Spain 2016)

"A true musician…great precision and flowing musicality" (Fidelio – Hzo, Hungary 2014)

"Brilliant virtuosity, absolute control over the details of the performance… clarity of interpretation, precision and brightness of playing, subtle and at the same time rich colouring" (Silesia prezentuje, Poland, 2014)

"His style is capable to show the inner musical details" (Positano news, Italy 2012)

"Great clarity of his instrumental technique" (Avvenire, Italy 2009)

BUY TICKETS
TICKETS
Grisha Goryachev and Andrea de Vitis

BUY TICKETSSaturday, March 24, 2018  7:30 pm
Green Room  $45

Call 415-242-4500 for personalized service.

Save

Save

Save

Save

Save

Save

Save

Save

Save

Save

Save

Save

Save

Save

Save

Save

Save

Save

Save

Save

Save

Save

Save

Save

Save

Save

Save

Save

Save

Save

Save

Save

Save

Save

Save

Save

Save

Save

Save

Save

Save

Save

Save

Save

Save

Save

Save

Save

Save

Save

Save

Save

Save

Save

Save

Save

Save