Saturday, March 2, 2019  7:30 pm
Herbst Theatre

"Virtuoso playing characterized by its vividly shaded colors and irresistible exuberance…" The New York Times

A tribute to Segovia celebrating the 125th anniversary of his birth.
ALBÉNIZ: Sevilla and Asturias from Suite Española Op. 47
BACH: Chaconne from Violin Partita BWV 1004
SOR: Introduction and Variations on a Theme by Mozart, Op. 9
GIMÉNEZ: La boda de Luis Alonso
GRANADOS: Valses poéticos
RODRIGO: Invocation and Dance (Homage to M. de Falla)
TÁRREGA: Gran Jota

Presented in association with San Francisco Performances.

Born in Spain in 1977, Pablo Sáinz Villegas began his musical studies at the Professional Conservatory of Music in La Rioja, under Miguel Ubis and was awarded the Extraordinary Prize for Final Level. He continued his studies with Paulino García Blanco and at the Royal Superior Conservatory of Music in Madrid with José Luis Rodrigo graduating with the Extraordinary Graduation Prize. From 1997 to 2001 he studied with Thomas Müller-Pering at the Weimar Liszt Musikhochschule, and in 2004 took a Postgraduate Diploma under David Starobin at the Manhattan School of Music in New York. A winner of fourteen international competitions, he was a recipient of the Andrés Segovia and Andrés Segovia Ad Honorem Awards at the 38th and 39th International University Courses of Spanish Music in Santiago de Compostela.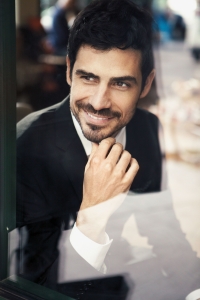 Most recently he was awarded First Prize in the prestigious 2003 International Guitar Competition Francisco Tárrega, where he also received the prize for the best interpretation of Tárrega's compositions. He is the holder of several important scholarships including the Asociación de Intérpretes y Ejecutantes (A.I.E.), the Alexander von Humboldt Stiftung, and La Caixa Foundation.

A noted solo and chamber performer, Pablo Sáinz Villegas has given recitals in Australia, Austria, Belgium, Bosnia, the Dominican Republic, France, Germany, Greece, Ireland, Italy, Portugal, Slovakia, Spain, Sweden, Turkey, the United Arab Emirates, the United Kingdom and the United States and has appeared on some of the world's most famous concert stages.

As a member of the Proyecto Guerrero Orchestra dedicated to avant-garde music he has worked with some of the greatest composers of our time, including Helmut Lachenmann, George Crumb and Cristóbal Halftter. He has participated in the International Music Festivals of Granada, Segovia, Peralada and Strasbourg and has collaborated with Radio 2 Clásica RNE, Spanish National Radio and Television, Radio France, Euroradio, ABC, and the BBC.


Save

Save

Save

Save

Save

Save

Save

Save

Save

Save

Save

Save

Save

Save

Save

Save

Save

Save

Save

Save

Save

Save

Save

Save

Save

Save

Save

Save

Save

Save

Save

Save

Save

Save

Save

Save

Save

Save

Save

Save

Save

Save

Save

Save

Save

Save

Save

Save

Save

Save

Save

Save

Save

Save

Save

Save

Save