"Aloha España" featuring Pepe Romero and Daniel Ho
Saturday, April 27, 2019  7:30 pm
St. Mark's Lutheran Church

In this very special event, always inspiring virtuoso Pepe Romero will join 6-time GRAMMY winner Daniel Ho in a program featuring guitar and ukulele. You will be amazed at how these two great artists fuse their styles to create "Aloha España"!

There are very few true living legends in the world of classical music, few who have sustained greatness and grown throughout their lives. Pepe Romero is such an artist. He has been honored by kings, heads of state, and major institutions-the encomiums continue to pour in. But to Romero, his most important contribution has been reaching the common man. He has communicated the richness and beauty of the classical guitar to millions of people throughout the world. He has, indeed, become an ambassador of classical music, and, correspondingly, of the classical guitar.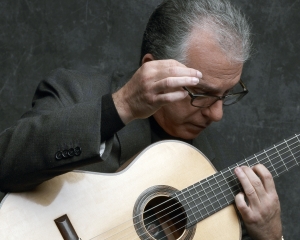 But this gift did not just appear out of nowhere. Pepe is the second son of one of the greatest guitarists that ever lived—Celedonio Romero. And he is brother to two more musical phenoms—Celin and Angel Romero.  But perhaps we should start at the beginning…

Pepe was born in Málaga, Spain, in 1944. In those days, following the devastating Spanish Civil War (1936-39) and during the Second World War, Spain was in desperate economic straits.  Basic survival was the primary challenge. Yet, despite this, Celedonio Romero and his remarkable wife, Angelita, instilled in all three of their children a love of music that transcended the profound misery surrounding them.

By age seven, Pepe set foot on the concert stage for the first time, at the Teatro Lope de Vega in Sevilla. And now, more than sixty years later, he continues to mesmerize audiences throughout the world. During that time, he has given literally thousands of concerts worldwide, many with the remarkable Romero Quartet,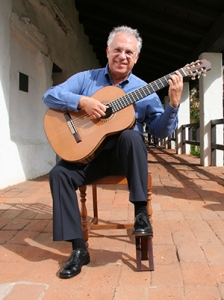 and many as a solo instrumentalist. He has worked with almost every major conductor and has to his credit more than 60 recordings (among which are 20 concerto recordings with the Academy of St. Martin-in-the-Fields, with both Neville Marriner and Iona Brown).

Pepe Romero has premiered works by some of the finest composers of the twentieth and twenty-first centuries. Joaquín Rodrigo, Federico Moreno Torroba, Lorenzo Palomo, Padre Francisco de Madina, Paul Chihara, Enrique Diemecke, Ernesto Cordero, and, most poignantly, Celedonio Romero, have written compositions for Pepe. Always a champion of music by composers in earlier periods of music history, he has also delved into rare archives to re-explore lost pieces by Fernando Sor, (world premiere and recording of Fantasie in d minor), Mauro Giuliani (world premiere recordings of Concerto no.2 in A major and Concerto no.3 in F major and Variations and Polonaise, Op.65), Francesco Molino (world premier recording of Guitar Concerto in E minor, Op.56), Ferdinando Carulli (world premiere recording of Guitar Concerto in E minor, Op.140), Johann Kaspar Mertz, Luigi Boccherini, (world premiere recording of all 8 guitar quintets) and others.

Complete Biography: peperomero.com/bio/

Daniel Ho's simple philosophy of presenting music with sincerity and artistry encompasses six consecutive GRAMMY Awards, number-one albums on national airplay charts, and top-ten albums on Billboard. In 2010, his solo 'ukulele CD, Polani (Pure), was the first 'ukulele album in music history to receive a GRAMMY nomination. On piano the following year, he received a nomination for Best Pop Instrumental Album for his CD, E Kahe Malie (Flowing Gently).  Daniel's album On A Gentle Island Breeze" was nominated for a GRAMMY in the World Music category.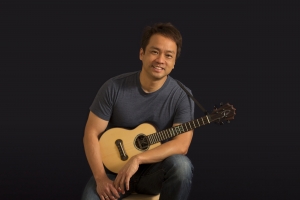 A Honolulu native, Daniel started music lessons at an early age and spent his teenage years orchestrating big band arrangements. At the Grove School of Music in Los Angeles, he excelled in composition and film scoring. He was the leader and keyboardist of the acclaimed '90s contemporary jazz band, Kilauea.

Daniel performs original songs in English and Hawaiian that feature his versatility on 'ukulele, slack key guitar, and piano. Notable credits include singing Prince's "Nothing Compares 2 U" in Hawaiian for the feature film Forgetting Sarah Marshall (2008), and his widely covered `ukulele instrumental anthem, "Pineapple Mango." As an independent record company owner, he pursues excellence in composition, performance, audio engineering, and production.

Ever the innovator, Daniel's custom six-string KoAloha 'ukulele, the D-VI, is currently on exhibit at the GRAMMY Museum.  In addition, he has collaborated with world renowned luthier Pepe Romero in the design of Romero Creations' Tiny Tenor, XS Soprano, and ST Concert 'ukuleles.

Complete Biography: www.danielho.com/biography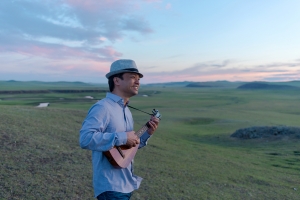 Save

Save

Save

Save

Save

Save

Save

Save

Save

Save

Save

Save

Save

Save

Save

Save

Save

Save

Save

Save

Save

Save

Save

Save

Save

Save

Save

Save

Save

Save

Save

Save

Save

Save

Save

Save

Save

Save

Save

Save

Save

Save

Save

Save

Save

Save

Save

Save

Save

Save

Save

Save

Save

Save

Save

Save

Save