Yamandu Costa and Guto Wirtti
Tuesday, October 23, 2018  7:30 pm
Herbst Theatre

"A Homage to Brazilian Dances" The jaw-dropping talent of 7-string virtuoso Yamandu Costa displayed with the bass playing brilliance of his life-long musical partner Guto Wirtti "is phenomenal".

One of the greatest guitarists of our time, a master of the 7 string guitar. Yamandu's performances are thrilling events, full of passion, excitement, virtuosity and exquisite beauty. A Brazilian wonder. Can you imagine a combination of Paco de Lucia, Baden Powell and Raphael Rabello…that's Yamandu Costa!

Guitarist and composer born in Passo Fundo in 1980, Yamandu began studying guitar at the age of 7 with his father, Algacir Costa, leader of the band "The Frontiers" and improved with Lúcio Yanel, an Argentine virtuoso living in Brazil. Until the age of 15, his only musical school was the folk music of the South of Brazil, Argentina and Uruguay. After listening to Radamés Gnatalli, he began to search for other Brazilians, such as Baden Powell, Tom Jobim, Raphael Rabello among others. At the age of 17 he performed for the first time in São Paulo at the Cultural Circuit Banco do Brasil, produced by Tom Brasil Studio, and from then on he was recognized as a revelation musician of the Brazilian guitar.

One of the greatest phenomena of Brazilian music of all time, young Yamandu confirms and deserves all the praise he receives when he plays his guitar.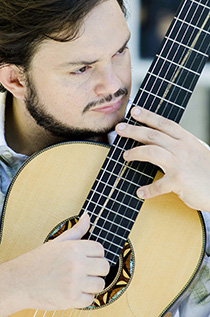 Alone on the stage, he is able to raise in ecstasy audiences of the most specialized and to excite the great public to the most accurate ears. His performance interpretations can reshape every song he plays and reveals a deep intimacy with his instrument. All the recognition he receives is only a reflection of what he brings to his audience, recreating the magic of music in his touch, passing through his body and transforming almost miraculously. Yamandu plays Brazilian classical music, but he is also a gaucho full of milongas, tangos, zambas and chamamés. A guitarist and composer who does not fit into any musical chain he is a mixture of all styles and creates rare personality interpretations on his 7 string guitar. Yamandu lives up to the meaning of his beautiful name "the forerunner of the waters."

Considered one of the greatest talents of the Brazilian guitar, Yamandu Costa is a world reference in the interpretation of our music, which dominates and recreates each performance, including in his compositions. Who sees him on stage realizes his incredible involvement, his passion for instrument and art. His musical creativity develops freely on an absolutely improved technique, exploring all the possibilities of the 7-string guitar, renewing old themes and presenting his own compositions of intense brilliance, in an always passionate and contagious performance.

Revealing a deep intimacy with his instrument and a musical language without borders, he toured the most important stages of Brazil and the world, participating in great festivals and encounters, winner of the most relevant prizes of Brazilian music. In 2010, Luz da Aurora CD with Hamilton from Holland was nominated for the Latin Grammy.

In 2012 he won in Cuba the Cubadisco International Award for CD Mafuá and a Mention of the ALBA Award for CD Lida.

Yamandu Costa is currently the most represented Brazilian musician in the world, covering the most diverse countries of the globe: France, Portugal, Spain, Belgium, Germany, Italy, Austria, Switzerland, Holland, Sweden, Norway, Finland, Estonia, Russia, Lithuania, Serbia, Greece, Macedonia, Israel, Cyprus, India, China, Japan, South Korea, Zimbabwe, Cape Verde, Angola, UAE, Canada, Ecuador, Cuba, Colombia, Chile, Argentina, Uruguay and Costa Rica.


Recognized for his versatility and creativity, bassist, arranger, composer and music producer Guto Wirtti is one of the most sought after instrumentalists in Brazilian music.


Born in the interior of Rio Grande do Sul to a family of musicians, at the age of six Guto began playing guitar accompanying his father, Antonio Gringo – revered singer and composer of regional music from Rio Grande do Sul.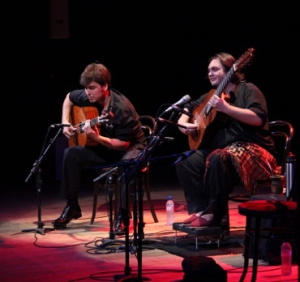 At the age of twelve he made the double bass his main instrument, working alongside local artists to participate in recordings, festivals and concerts throughout the south of the country. At the age of sixteen he decided to expand his knowledge and took flight to Salvador (BA), where he spent a year playing and researching the roots of Afro Brazilian music.

In 2003 Guto Wirtti moved to Rio de Janeiro and began to integrate several musical works alongside big names in contemporary music, such as João Bosco, Leo Gandelman, Maurício Einhorn, Marco Pereira, Toninho Ferragutti, Celso Fonseca, Ed Motta, Luis Melodia , Wilson das Neves, Milton Nascimento, Jorge BenJor, Kassim, Duduka da Fonseca, Mart'nália, Gabriel Grossi, Nicolas Krassik, Alessandro Kramer, Zé Paulo Becker, among others. In 2010 he participated in the album "Campo Belo", by the American guitarist Anthony Wilson.

Save

Save

Save

Save

Save

Save

Save

Save

Save

Save

Save

Save

Save

Save

Save

Save

Save

Save

Save

Save

Save

Save

Save

Save

Save

Save

Save

Save

Save

Save

Save

Save

Save

Save

Save

Save

Save

Save

Save

Save

Save

Save

Save

Save

Save

Save

Save

Save

Save

Save

Save

Save

Save

Save

Save

Save

Save