Irina Kulikova & Grisha Goryachev
Russian Contrasts: Irina Kulikova & Grisha Goryachev

CANCELLED. Saturday, April 25, 2020 7:30 pm
St. Mark's Lutheran Church, San Francisco


Russian Contrasts: Classical guitarist Irina Kulikova, winner of multiple international competitions, combines virtuoso technique with a rare beauty of tone. Grisha Goryachev performs the great repertoire of the flamenco guitar from Sabicas to Paco de Lucia and he is brilliant!

With the rare beauty of her tone and and her enchanting presence on stage,

Irina Kulikova

catches the hearts of audiences across the globe. She belongs to that class of musicians that profoundly move people with the purity of their performance.

Irina Kulikova tours far afield, with appearances at leading festivals in Europe, North America and Asia and in concert halls such as the Amsterdam Concertgebouw, the Tchaikovsky Hall in Moscow, the Academic Capella in St. Petersburg, Schloss Mirabell in Salzburg, the Palau de la Musica in Valencia, the Musashino Hall in Tokyo and the Oriental Arts Center in Shanghai.

She received over 30 awards for her artistry, including 1st prizes at the highly prestigious competitions of Michele Pittaluga in Italy, Guitarra Alhambra in Spain, Forum Gitarre Wien in Austria and Iserlohn in Germany.

A native of St. Petersburg, Russia,

Grisha Goryachev

is renowned for his extraordinary musical sensitivity and technical virtuosity in both classical and flamenco styles. Grisha is one of very few guitarists in the world who is reviving the tradition of solo flamenco guitar in a concert setting that was practiced by legendary flamenco masters such as Ramón Montoya and Sabicas.​

​Grigory Goryachev began to play the guitar at the age of six, studying first with his father, Dmitry, an acknowledged master teacher of the instrument. Following his debut at the age of nine, Mr. Goryachev enjoyed an extensive career as a child prodigy, performing regularly before large audiences in the most prestigious concert halls of St. Petersburg, Moscow, Minsk, Riga, and other major cities in the then Soviet Union. He also appeared regularly on Soviet television and radio and was featured in numerous major newspapers and magazines. His participation at the age of 13 in the T.V. marathon, Revival of St. Petersburg, was transmitted live to more than one hundred countries worldwide.

In 1991, Goryachev was awarded second prize in the Danny Kaye International Childrens Awards held in the Hague, Netherlands. Sponsored by UNICEF, this competition featured participants on all instruments from twenty-six countries. Later that same year, Mr. Goryachev was invited to perform at the UN headquarters in New York City. Directly thereafter, he toured Scandinavia and performed by special invitation for the Royalty of Iceland. In 1993, Mr Goryachev was chosen to represent his native city in the Days of St. Petersburg in Jerusalem Festival, and in 1994 at the invitation of Vladimir Spivakov, he performed at the Festival International de Colmar held in memory of Andres Segovia in Colmar, France.​

​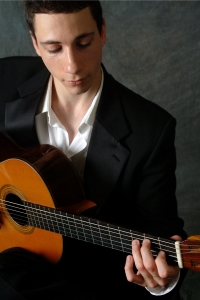 Following a tour of Spain, Goryachev was invited to play for flamenco legend, Paco de Lucía, who soon after personally intervened in support of his application for an American visa (subsequently awarded in the year 1997 on the basis of Extraordinary Ability).

Since coming to the United States, Mr. Goryachev has continued his lifelong love affair with flamenco while deepening his involvement with the classical style. His repertoire now includes classical solos, chamber music and guitar concertos and more than six hours of flamenco solos by such composers as Paco de Lucía, Vicente Amigo, Manolo Sanlucar, Rafael Riqueni, and others. As the flamenco repertoire is for the most part unpublished, Mr. Goryachev has performed the somewhat incredible feat of transcribing entirely by ear from the recordings.​

​Grisha strives to keep alive older flamenco masterpieces that now exist only on records, by performing them in concerts. Grisha exposes the audiences to some of the best guitar compositions flamenco has to offer. Instead of merely copying, he creates his own interpretations of these masterpieces, using dynamics and tone colors usually associated with classical music.

In May 2005 Mr. Goryachev received a special prize for the Best Performance of Spanish Music at the VI International Classical Guitar Competition "Julian Arcás" in Almería, Spain. As a winner of this prize, Mr. Goryachev performed recitals in Spain at "Festival de Música Española de Cádiz" and "Festival de Música de Jimena de la Frontera".​

​Grisha received his Bachelor, Master and Doctor of Musical Arts degrees from the New England Conservatory of Music in Boston, where he studied under famous guitar virtuoso Eliot Fisk. He was one of the 30 people in 2006 to become a fellow of the prestigious Paul & Daisy Soros Fellowship, recognizing him as exceptional in his chosen field.

A firm believer in exposing the young generations to the beauty of classical and flamenco guitar, he likes to include Outreach performances and workshops at schools as part of his concert tours.

Grishas YouTube videos have collected over two million views and many notable comments. Grisha recorded two CDs, Alma Flamenca and Homenaje a Sabicas.  These CDS were recorded on on classical guitars by Stephan Connor (Cataumet, Massachusetts).

Grisha currently plays the following instruments:  flamenco blanca and flamenco negra by Lester DeVoe (Nipomo, California); 7-string flamenco negra by Matthew Morello (Ogden, Utah); and classical guitar also by Matthew Morello.  For many years, Grisha played guitars made by the master luthier Georgy Babichev.

Irina Kulikova & Grisha Goryachev

CANCELLED.


Call 415-242-4500 for personalized service.

Save

Save

Save

Save

Save

Save

Save

Save

Save

Save

Save

Save

Save

Save

Save

Save

Save

Save

Save

Save

Save

Save

Save

Save

Save

Save

Save

Save

Save

Save

Save

Save

Save

Save

Save

Save

Save

Save

Save

Save

Save

Save

Save

Save

Save

Save

Save

Save

Save

Save

Save

Save

Save

Save

Save

Save

Save