Saturday, December 5, 2020  7:30 pm
St. Mark's Lutheran Church, San Francisco


Experience one of the great masters of the guitar. Yamashita takes us on a journey to a captivating musical world all his own. An enormous talent with remarkable ability to present colossal programs from memory.

Presented in association with San Francisco Performances.

The Japanese guitarist, Kazuhito Yamashita, began to study the guitar at the age of eight with his father, Toru Yamashita. In 1972, aged eleven, he won the Kyushu Guitar Competition. Four years later, he was awarded First Prize in the 'All Japan Guitar Competition'. In 1977, he won three important international competitions – the 'Ramirez' in Spain, the 'Alessandria' in Italy and 'Paris Radio France Competition', being the youngest winner ever recorded.

In 1978, Yamashita made his debut in Japan and, in the following year, traveled to Europe where a momentous performance was acknowledged as a turning point in the history of the solo guitar. While still in his twenties, he made his first appearances in Canada ('Toronto International Guitar Festival'), the USA and Britain and gave a solo recital in the Musikverein (Grosser Saal) in Vienna. He has given solo recitals in concert halls around the world such as Vienna's Musikverein Grosser Saal and the Lincoln Centre and has performed with a variety of orchestras and conductors in Europe, North America and Asia. His appearance at the Toronto International Guitar Festival in 1984 was spectacular and the performance considered a milestone. In 1989, the Casals Hall in Tokyo, considered to be one of the finest auditoriums in the world, presented a series called 'The World of Kazuhito Yamashita', comprising seven concerts in 12 months. The high point of the concerts was Mario Castelnuovo-Tedesco's 24 Caprichos de Goya in a single performance. The series concluded with Bach's six sonatas and partitas over two consecutive nights; a recital series was continued in 1994 and 1999.

In addition to solo performances, Kazuhito Yamashita also plays duo, as well as with chamber music ensembles, orchestras and internationally acclaimed artists, such as Leonard Slatkin with the London Philharmonic Orchestra, Rafael Frühbeck De Burgos, Antoni Ros Marbà,Garcia Navaro, Pedro Halffter, Hiroyuki Iwaki, NHK Symphony Orchestra, Los Angeles Chamber Orchestra, Orquesta Sinfónica de RTVE, Claudio Scimone and I Solisti Veneti, James Galway (flute), Gary Karr (double bass), Michala Petri (recorder), The Tokyo String Quartet etc. In the 4th Santo Tirso International Guitar Festival, held in 1997, he played four guitar concertos in one night with the Cordoba orchestra, conducted by Leo Brouwer. Most recently, he is active in the guitar quartet 'Kazuhito Yamashita + bambini'. This quartet, consisting of Kazuhito Yamashita and his children, has performed at two international festivals in Italy, the Seoul Art Center in Korea, Portugal, Cordoba Festival in Spain, San Francisco Herbst Theatre and several cities throughout Japan.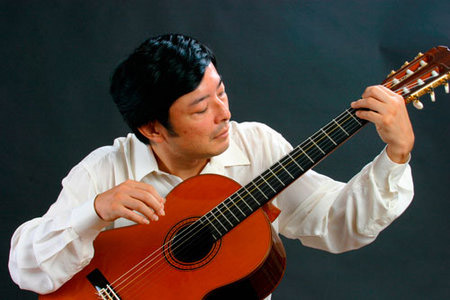 Kazuhito Yamashita is widely recognized as one of the world's most premier virtuoso guitarists. His dazzling technique and powerful expression has received accolades throughout the musical world. With an impressive list of almost 80 recordings and numerous original arrangements of such works as Mussorgski's Pictures at an Exhibition, Igor Stravinsky's Firebird, Nikolai Rimsky-Korsakov's Scherezade and Dvorak's Symphony of the New World, Yamashita is a legend within guitar circles. He has recorded for BMG (RCA), Crown Classics, Japan Victor, King Records and Alfa Records. His recordings include 16 CD's with the complete works of Fernando Sor, and a collection of 5 CD's containing J.S. Bach's sonatas and partitas for violin, cello, lute and flute (BWV 995-1013), all which he himself transcribed for the guitar. His long-awaited recording of Mussorgsky's Pictures at an Exhibition, released in 1981, merited the prestigious Deutsches Grammophon Award.

Kazuhito Yamashita is an enthusiastic proponent of new works for the guitar and has given the world premier of more than 60 new compositions throughout the world. In this regard, his world premier and presentation of the works of the Japanese composer Keiko Fujiie is notable. In 1999, he received the 'National Arts Festival Grand Prize' from the Japanese Government's Agency for Cultural Affairs for his CD recording of 'Japanese Guitar Music 1923-1948'.

Kazuhito Yamashita

Saturday, December 5, 2020 7:30 pm
St. Mark's Lutheran Church, San Francisco


Call 415-242-4500 for personalized service.

Save

Save

Save

Save

Save

Save

Save

Save

Save

Save

Save

Save

Save

Save

Save

Save

Save

Save

Save

Save

Save

Save

Save

Save

Save

Save

Save

Save

Save

Save

Save

Save

Save

Save

Save

Save

Save

Save

Save

Save

Save

Save

Save

Save

Save

Save

Save

Save

Save

Save

Save

Save

Save

Save

Save

Save

Save