New Monthly Fall Concert Series!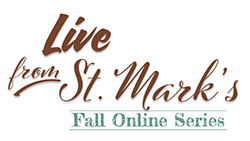 This Series is FREE! Viewing links will be posted here on the day of the event.
10/24/2020 7:30 pm CONCERT LINK
11/21/2020 7:30 pm CONCERT LINK
12/5/2020 7:30 pm CONCERT LINK
Welcome to Live From St. Mark's –Fall Series, an online concert series. We are keeping the music going for our audience and our artists!  Our video series, filmed live (without audience) at St. Mark's Lutheran Church, one of our regular venues in San Francisco, features three concerts, five wonderful guitarists, and conversations with the artists. The musicians include the Bay Area's most promising pre-college players, joined by some of the most prominent guitarists in the world.
We hope you will join us as we offer these free monthly programs by supporting the Omni Foundation and our artists with a donation or membership contribution. Make sure you are on the Omni e-mail list for schedules and updates. Thank you for joining!
How to watch the Free Series: 
1.    At 7:30 pm the day of the performance, the Youtube video will be posted on this page and the individual concert page listed below. Just click on the link to watch!
2.    The concert is free to view while we wait for live performances to return. We hope you enjoy these wonderful artists.
3. To join us in our efforts to bring you the best in classical and acoustic guitar please donate any amount using the donate button, below. The Omni Foundation is publicly supported, and your contribution is fully deductible for state and federal income tax purposes as provided in section 170 of the Internal Revenue Code 501(c)3. Thank you.
Sav
Save
Save
Save
Save
Save
Save
Save
Save
Save
Save
Save
Save
Save
Save
Save
Save
Save
Save
Save
Save
Save
Save
Save
Save
Save
Save
Save
Save
Save
Save
Save
Save
Save
Save
Save
Save
Save
Save
Save
Save
Save
Save
Save
Save
Save
Save
Save
Save
Save
Save
Save
Save
Save
Save
Save
Save
Save
Save
Save
Save
Save
Save