Tengyue Zhang, classical guitar, with Opening by Conor Padmanabhan,  guitar. Special Guest Strauss Shi, violin
Live from St. Mark's Spring 2021 Series
Filmed live at St. Mark's Lutheran Church in San Francisco
Saturday, March 6, 2021 7:30 pm

This free online concert is filmed live from one of our San Francisco venues –St. Mark's Lutheran Church. Join our e-mail list and we'll send you a link to the concert on the day of the event! If you would like to support this series, the Omni Foundation and our artists, please consider donating or contributing by becoming a member. Thank you!

Watch the Tengyue Zhang Concert

  | Premieres at 7:30 pm March 6, 2021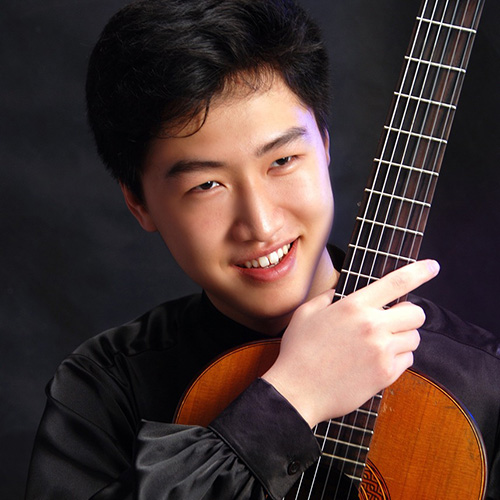 "…always tasteful and deeply expressive without any exaggeration. He takes his place as one of the finest of this emerging generation of magnificent artists." —American Record Guide

Classical Guitarist Tengyue Zhang, also known as TY, has won 1st prizes over many world competitions, including the Forum Gitarre Wien International Youth Competition of Austria, GFA International Competition Senior Division, the Changsha International Guitar Competition, Alexander Frauchi International Competition of Russia and the Schadt String Competition of America etc.

In 2017, TY received one of the world's most prestigious guitar competition award, the Rose Augustine Grand Prize of the Guitar Foundation of American (GFA) International Concert Artist Competition (ICAC), become the first Chinese to be honored with this prize. His win followed by a tour with over 50 concerts in the U.S., including his Carnegie Hall debut. In 2018, TY released his solo album with Naxos company as the Laureate Series · Guitar Recital. It was reviewed highly by more than Five critics, was praised as: "one of the most talented young players…Every time I hear him play, I'm struck by the extraordinary levels of mastery, comfort and relative ease… And that is true on this Guitar Recital album." —Classical Guitar Magazine

TY has given recitals & masterclasses in Austria, Serbia, Russia, China, Japan, Australia, and the United States. He has been featured on multiple world medias, including the WQXR and WNYC Classical Music Radio in the U.S., NIKA-TV and GUBERNIYA-TV & Radio of Russia.

TY began to study classical guitar at the age just passed five with his father. At eight, he was introduced to Professor Chen Zhi with whom he studied at the Music School attached to the Central Conservatory of Music in Beijing, where he finished his High school studies. He was awarded Full Scholarship from The Juilliard School where he completed his Bachelor & Master of Music with Ms. Sharon Isbin.

TY is now pursuing Doctor of Musical Arts (DMA) in the University of Southern California with Mr. William Kanengiser of the LAGQ.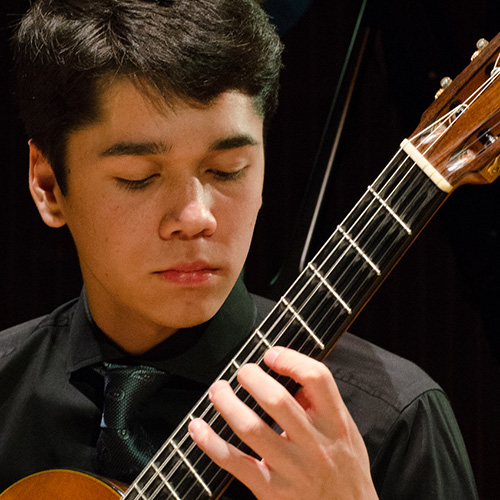 Guitarist Conor Padmanabhan, age 17, was a soloist in 2020 on National Public Radio's classical-music program "From The Top." That year he also performed in a collaborative video, along with cellist Yo-Yo Ma and others, of Leonard Bernstein's "Take Care of This House" in support of the ACLU's Voting Rights Project. Conor has been a prizewinner in the National YoungArts Foundation Competition and was the first-place winner in the California statewide guitar competition of the American String Teachers Association.

In 2018 he was a featured soloist in Classical Guitar Magazine's "Sunday Prodigy" video series. Selected by audition, Conor has been a soloist in the annual Junior Bach Festival for eight consecutive years since 2013. He has performed as a soloist in concerts at the Presidio of San Francisco, Sacramento Guitar Society, Davis Arts Center, and the University of Hawaii Maui College and has opened for Cecilio Perera and Judicaël Perroy at the South Bay Guitar Society. Conor is a student of Scott Cmiel at the Pre-College Division of the San Francisco Conservatory of Music. His first teacher was Jon Mendle. Outside the guitar, Conor attends high school in Palo Alto, Calif., where he has served as an academic tutor since ninth grade, and has studied sound design at the University of California's Summer School for Mathematics and Science.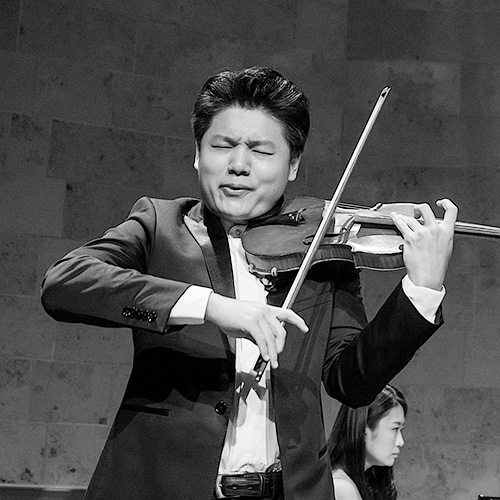 Chinese-American violinist Strauss Shi made his major debut with the Utah Symphony under the baton of Vladimir Kulenovic at the age of seventeen and since then, he has concertized in the United States, China and Europe. Strauss is a top prizewinner at numerous competitions including Gold Medal at the 3rd Berliner International Music Competition (2019), First Prize at the USC Thornton Concerto Competition (2018), Grand Prize at the Mondavi Center Young Artists Competition (2017), First Prize at the United States International Music Competition (2016), and Second Prize at the inaugural Siqing Lu Futian International Violin Competition (2016), among others.


Tengyue Zhang, classical guitar, with Opening by Conor Padmanabhan, guitar. Special Guest Strauss Shi, violin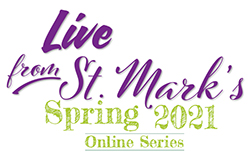 Saturday, March 6, 2021 7:30 pm

Watch the Tengyue Zhang Concert
MORE INFORMATION
Call 415-242-4500 for more information.

Save

Save

Save

Save

Save

Save

Save

Save

Save

Save

Save

Save

Save

Save

Save

Save

Save

Save

Save

Save

Save

Save

Save

Save

Save

Save

Save

Save

Save

Save

Save

Save

Save

Save

Save

Save

Save

Save

Save

Save

Save

Save

Save

Save

Save

Save

Save

Save

Save

Save

Save

Save

Save

Save

Save

Save

Save