Omni On Location
Concert in St. Andrew's Cathedral – 18th Century, Kiev, Ukraine
April 17, 2021 | 7:30 pm PDT

This free online concert is filmed at 18th Century St. Andrews Church, Kiev, Ukraine.

Join our e-mail list and we'll send you a link to the concert on the day of the event! If you would like to support this series, the Omni Foundation and our artists, please consider donating or contributing by becoming a member. Thank you!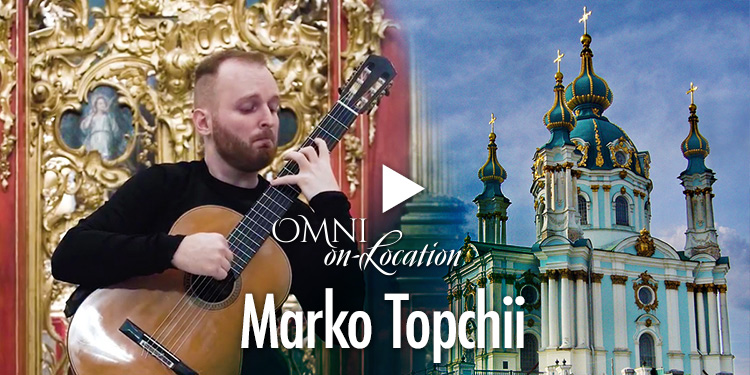 BONUS: Immediately following the Premiere will be a Live Q&A with the artist. (Link in video description.)

Watch the Marko Topchii Concert

| Premieres at 7:30 pm PDT April 17, 2021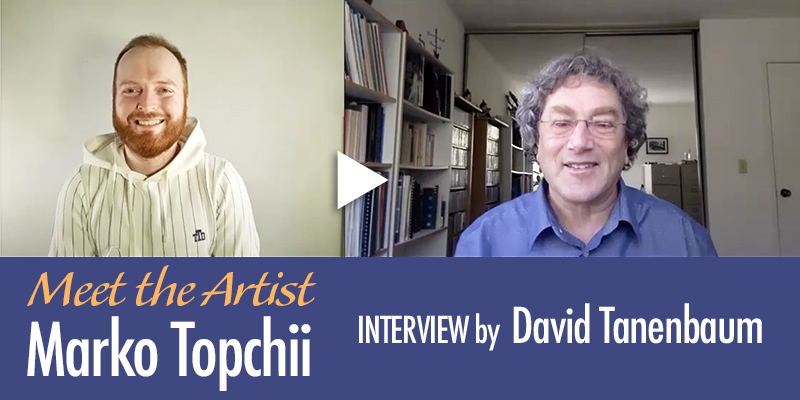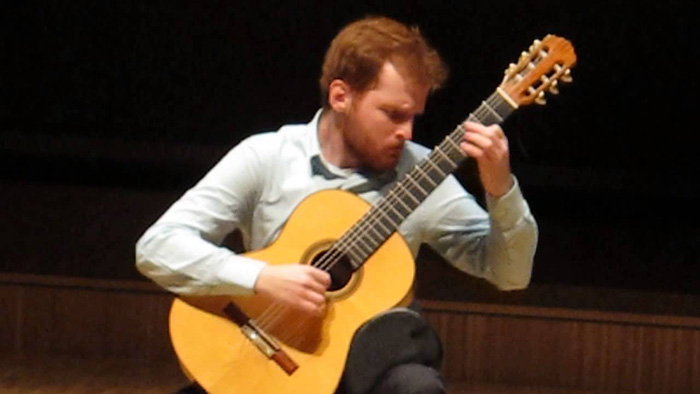 Marko Topchii has won more than 80 awards worldwide in the international guitar competitions in the professional category. Among them, 34 first places in the competitions in United States, Mexico, Australia, Japan, China, Taiwan, Singapore, South Korea, Indonesia, Germany, Switzerland, France, Spain, Italy, Portugal, Liechtenstein, Poland, Serbia, Bulgaria, Montenegro, and Ukraine.

Marko actively performs around the world, regularly gives concerts with the orchestra; he is the desired teacher of master classes and juror of competitions; he constantly mentioned in the mass media.

Marko is a D'Addario artist since 2012.
Marko discography includes the following albums:
2016 – Marko Topchii – Marko Topchii (Fleur de Son Classics)
2016 – Marko Topchii – Van Gogh Fire (Contrastes Music Records)
2015 – Buffalo Philharmonic Orchestra – Stars of the Guitar (Beau Fleuve Records)*
*Disc Two: H. Villa-Lobos – Concerto pour Guitare et Petit Orchestra
The history of guitars  he plays includes:
Andres D. Marvi – The Marvi Classic Cedar (Spain, 2016)
Hong Sik Uhm – Spruce (South Korea, 2015)
Jim Redgate – Double Top Cedar (Australia, 2016)
Karl-Heinz Roemmich – Cedar (Germany, 2013)
Karl-Heinz Roemmich – Spruce (Germany, 2010)
Masaki Sakurai – Model Special Cedar (Japan, 2014)
Mykola Roodenko – Cedar (Ukraine, 2008)
Sakurai Kohno – Model Maestro Spruce (Japan, 2013)
Yuichi Imai – Cedar (Japan, 2010)
Yuichi Imai  – Limited Model Spruce (Japan, 2007)

Marko Topchii was born into a family of musicians in Kiev, Ukraine and is started studying guitar at the age of four.
He is 26 years old and is currently pursuing a doctorate degree at the Tchaikovsky National Academy of Music in Kiev under the guidance of Prof. Yuri Alexik, Honored Artist of Ukraine. He completed his master degree in the National University of Arts in Kharkov in 2011, where he studied under Prof. Volodymir Dotsenko, Honored Artist of Ukraine.

guitars:
Jim Redgate 2016
Julian Dammann 2018

Awards:

2020:
1st prize – Koblenz International Guitar Competition (Koblenz, Germany)
1st prize – 35th International Guitar Competition "Andres Segovia" (La
Herradura, Spain)
1st prize, audience prize – 2nd  Dutch Guitar Concerto Competition &
Festival(Groningen, Netherlands)

2019:
1st prize  – 3rd Qingdao International Guitar Art Festival and
Competition (Qingdao, China)
1st prize  – 3rd International Guitar Competition "Paris Guitar
Foundation (Paris, France)
2 nd prize – LIII International Guitar Competition "Francisco Tarrega"
(Benicassim, Spain)

2018:
1st prize – Miami International Festival (MIGF) and Competition (Miami, USA)
1st prize  – 3rd Viseu International Guitar Competition (Viseu, Portugal)
1st prize  – 1st International Guitar Competition "Alberto Ponce"
(Paris, France)
2 nd prize – LII International Guitar Competition "Francisco Tarrega"
(Benicassim, Spain)

2017:
1st prize – 50th International Guitar Competition "Michele Pittaluga"
(Alessandria, Italy)
1st prize – 2nd  Budapest International Guitar Competition ( Budapest, Hungary)
1st prize – 1st Valle dei Laghi International Guitar Competition (Valle, Italy)
1st prize – 2nd International Guitar Competition "Alvaro Mantovani"
(Follonica, Italy)
1st prize – 3rd International Zagreb Guitar Competition (Zagreb, Croatia)

2016:
1st prize – 7th Singapore International Guitar Competition (Singapore)
1st prize – 23rd International Guitar Competition "Andrés Segovia" (Linares, Spain)
1st prize – 16th Jan Edmund Jurkowski Memorial Guitar Competition (Tychy, Poland)
1st prize – 41st Incontri Chitarristici di Gargnano International Guitar Competition (Gargnano, Italy)
1st prize – 4th Adelaide International Classical Guitar Competition (Adelaide, Australia)
1st prize – 3rd International Guitar Competition Maurizio Biasini (San Francisco, CA, USA)
1st prize – 12th International Competition "Young Virtuosos" (Sofia, Bulgaria)
1st prize – 10th Anniversary Montenegro International Guitar Competition (Podgorica, Montenegro)
2nd prize, audience prize – 8th Alhambra International Guitar Competition (Valencia, Spain)
2nd prize – 2nd Viseu International Guitar Competition (Viseu, Portugal)
3rd prize – 49th Michele Pittaluga International Classical Guitar Competition (Alessandria Italy)

2015:
1st prize – 7th Daejeon International Guitar Festival Competition 2015 (Daejeon, South Korea)
1st prize, audience prize – 4th Concours de Guitare en Pays Tarnais (Albi, France)
1st prize – 4th International Classical Guitar Competition "Gredos San Diego" (Madrid, Spain)

2014:
1st prize, audience prize, musicians prize – 6th JoAnn Falletta International Guitar Concerto Competition (Buffalo, NY, USA)
1st prize, audience prize – Taiwan International Guitar Festival & Competition 2014 (Taipei, Taiwan)
1st prize – 3rd Changsha International Guitar Competition (Changsha, China)
1st prize – 7th International Guitar Competition "Ruggero Chiesa – Città di Camogli" (Camogli, Italy)
1st prize – 1st Jakarta International Guitar Competition (Jakarta, Indonesia)
2nd prize – 1st Budapest International Guitar Competition (Budapest, Hungary)

2013:
1st prize – 12th Annual Texas Guitar Competition and Festival (Dallas, TX, USA)
1st prize – 6th International Guitar Competition "Culiacán 2013" (Culiacán, Mexico)
1st prize – 1st International Guitar Competition Victor Pellegrini (Lausanne, Switzerland)
1st prize, Karla Minen prize – 42nd International Guitar Competition "Fernando Sor" (Rome, Italy)
1st prize – 5th International Guitar Competition Claxica 2013 (Castel D'Aiano e Montese, Italy)
1st prize – 56th Tokyo International Guitar Competition (Tokyo, Japan)
2nd prize, Special prize to the best interpretation of Francisco Tarrega – 47th International Guitar Competition "Francisco Tarrega" (Benicassim, Spain)
2nd prize – Asia International Classical Guitar Competition 2013 (Bangkok, Thailand)
2nd prize – 4th International Classical Guitar Competition "Stefano Strata-Città di Pisa" (Pisa, Italy)

2012:
1st prize – 4th International Guitar Competition "Ferdinando Carulli" (Rome, Italy)

2011:
1st prize – 12th Guitar Art Competition (Belgrade, Serbia)
1st prize – 12th Le Concours International de Guitare "Ville d'Antony" (Antony, France)
1st prize – 6th International Ligita Guitar Competition (Eschen, Liechtenstein)
1st prize – 13th International Guitar Competition of Sernancelhe (Sernancelhe, Portugal)
1st prize – 3rd International Robert J. Vidal Guitar Competition (Barbezieux, France)

2010:
1st prize – 18th Mottola Guitar Competition (Mottola, Italy)
2nd prize – Calcutta International Guitar Competition "Nikita Koshkin" (Calcutta, India)
2nd Prize – 14th International Guitar Competition "Ciudad de Coria" (Coria, Spain)

2009:
1st prize, audience prize, Enrico Mercatali prize – 6th European Classical Guitar Competition "Città di Gorizia" (Gorizia, Italy)
1st prize, audience prize, junior jury prize – 3rd International Guitar Competition Heinsberg (Heinsberg, Germany)
1st prize – 3rd International Guitar Competition "GuitAs" (Kiev, Ukraine)

2008:
1st prize – 3rd International Guitar Competition "Dniprovski suzir'ya" (Ukrainka, Ukraine)

2007:
1st prize, the youngest performer prize – 1st International Competition "National Philharmonic of Ukraine" (Kiev, Ukraine)
MORE INFORMATION
Call 415-242-4500 for more information.

Save

Save

Save

Save

Save

Save

Save

Save

Save

Save

Save

Save

Save

Save

Save

Save

Save

Save

Save

Save

Save

Save

Save

Save

Save

Save

Save

Save

Save

Save

Save

Save

Save

Save

Save

Save

Save

Save

Save

Save

Save

Save

Save

Save

Save

Save

Save

Save

Save

Save

Save

Save

Save

Save

Save

Save

Save