Saturday, February 12, 2022 7:30 pm
Herbst Theatre, San Francisco


Presented in association with San Francisco Performances

A rare guitar ensemble devoted to contemporary music, from the celebratory to the cerebral. The Dublin Guitar Quartet has piloted an impressive repertory of new work and original arrangements from compositional giants—and works audiences clamor to hear—delivered with tremendous style and vitality.

The Dublin Guitar Quartet has dedicated its career with unwavering devotion to performing contemporary music, an aspect that makes the ensemble unique within its genre. With the help of eight and eleven-string guitars the quartet has created an original catalogue of arrangements by composers such Philip Glass, Steve Reich, Arvo Part and Gyorgy Ligeti.

The DGQ's work has brought the attention of some of the world's leading composers. Recent activity includes a release on Philip Glass's Orange Mountain Music label and a new commission by New York's Michael Gordon. The quartet performed alongside the Grammy award winning LA Guitar Quartet, Conspirare and the Texas Guitar Quartet in a premiere of  How Little You Are by Nico Muhly in Austin, Texas in April 2015. The DGQ is also included on a recent recording performing Arvo Part's Summa. The quartet worked with the composer in making the arrangement and received guidance during the recording process. The arrangement is published by the composer's own publisher Universal Edition.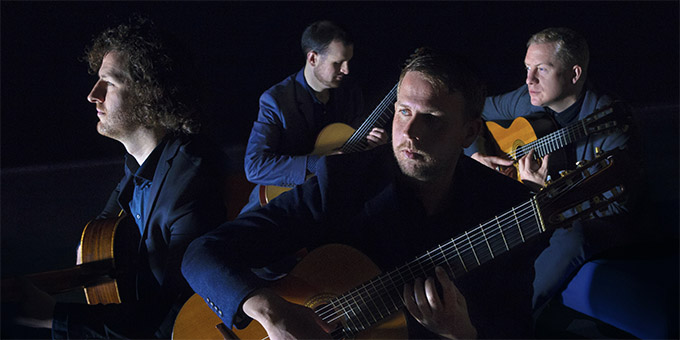 In 2010 the quartet were involved in a performance of Repentance for cello, guitars and double bass by celebrated Russian composer Sofia Gubaidulina. The composer was present as they joined the Russian cellist Ivan Monighetti in a concert in St. Peter's Church, Drogheda. The DGQ's recording of this work was released on the LCMS label in March 2012.

In 2008, the quartet was honored to share the stage with legendary American composer Philip Glass in St. Patrick's Cathederal, Dundalk. The quartet's 2014 release of the full set of Glass quartets on the composer's own label Orange Mountain Music peaked at No.8 in the US iTunes classical charts in 2015.

The DGQ are developing the electric side of the guitar quartet repertoire with works like Nagoya Guitars and Electric Counterpoint by Steve Reich, and a recent commission for electric guitar quartet, Amplified by Michael Gordon. This was premiered at the David Lang/Bang on a Can curated festival of new music at the National Concert Hall, Dublin in February 2015. The US premiere took place at the Brooklyn Academy of Music (BAM) in December 2017.

Save

Save

Save

Save

Save

Save

Save

Save

Save

Save

Save

Save

Save

Save

Save

Save

Save

Save

Save

Save

Save

Save

Save

Save

Save

Save

Save

Save

Save

Save

Save

Save

Save

Save

Save

Save

Save

Save

Save

Save

Save

Save

Save

Save

Save

Save

Save

Save

Save

Save

Save

Save

Save

Save

Save

Save

Save