International Guitar Night
Stephanie Jones (Australia), Alexandr Misko (Russia)

Jocelyn Gould (Canada), Lulo Reinhardt (Germany)

Thursday, March 3, 2022   7:30 pm
Herbst Theatre, San Francisco


International Guitar Night is the world's premier touring guitar festival, each show bringing together the most interesting and innovative acoustic guitarists to exchange musical ideas in a public concert setting.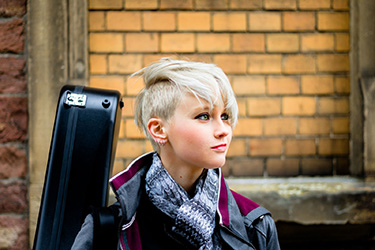 Award-winning classical guitarist Stephanie Jones' childhood resonated with the sound of music from a very young age. She played many instruments, beginning first with the piano, and progressing to the violin, viola, saxophone and flute. However, it was the guitar with its captivating range of sounds and great versatility that especially appealed to her, and it quickly became her first love.

Stephanie Jones is a world-renowned soloist and chamber musician who specialises in classical guitar performance. She is currently based in Germany and studying Konzertexamen at the University of Music Franz Liszt with Prof. Thomas Müller-Pering.

Stephanie continues to perform extensively around the globe in multiple tours and festivals, and has also released three solo albums; "Open Sky" (2020), "Colours of Spain" (2015), and "Bach, the Fly, and the Microphone" (2009). She is also a member of the acclaimed Weimar Guitar Quartet, releasing their debut album in 2019.

She has also won numerous awards in prestigious competitions, including first prize at the Hannabach Guitar competition, Uppsala International Guitar Festival Competition, and Fine Music Network Young "Virtuoso of the Year" Competition.

Stephanie is passionate about sharing her music with others and is recognised as an innovative and deeply musical artist.

She plays a 2012 spruce top guitar by Perth luthier Paul Sheridan, a 2020 crossover guitar by Daniel Zucali, and a double top spruce guitar by Altamira.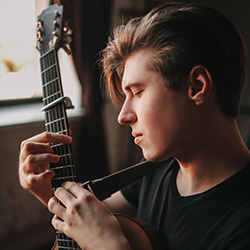 Alexandr Misko is a dazzling new breed of modern fingerstyle guitarist. The 22-years-old Russian already plays shows all over the world and has often appeared on TV in his homeland and other countries.

Drawing influences from the musicians who pioneered and expanded this guitar style, Misko manages to break through to new heights while never losing sight of the underlying music.

He is a passionate and energetic performer who has gone on to release four solo albums whilst his organic approach to publishing music has earned him a supportive fan base the world over.

In 2015 his video with an original tune "Guitar & Pen Tapping Song" quickly gained over a million views, which was the reason for inviting him to appear on the well-known Russian analog of an American TV talk show "Jimmy Kimmel Live!".

In January 2017 Alexandr Misko's video cover of Michael Jackson's song "Billie Jean" gained over 30 million views on Facebook, which was the first big step to enter the world guitar scene and allowed him to perform on the same stage at the Guitar Summit showcase in Germany with such outstanding musicians as Jon Gomm, Guthrie Govan, Tobias Rauscher and Maneli Jamal.

In December 2017 Misko released his second album "Beyond The Box" and the very first single from the recording ("Careless Whisper" by George Michael) gained more than 80,000,000 views within a month on Facebook and YouTube accumulated. The number of Alexandr's subscribers on his YouTube channel is growing exponentially and now has more than 600.000 followers. All of this set things in motion for Alex to take his solo show around the world.

In November 2019 he released his third album "Roundtrip" and on the 21st of January 2020 shared the stage with an outstanding Russian harp player Alexander Boldachev at the world-famous venue Carnegie Hall in New York City.

Alexandr's musical story is amazing and simple at the same time. He started playing the instrument at the age of 12 doing classical guitar with a private teacher for 3 years in his hometown Krasnodar. After becoming acquainted with the modern style of guitar playing called "Fingerstyle" on the Internet, he began to learn it on his own.

Since 2016 he released 4 albums and has been actively performing all around the globe with solo shows, teaching, recording music, and in October 2018 he received the title "Guitarist of the Year" according to the noticeable UK magazine "MusicRadar".

A unique style, a very musical and technical presentation coupled with original works, make Alexandr's music accessible to any listener. The language of his music is universal and understandable for audiences anywhere in the world.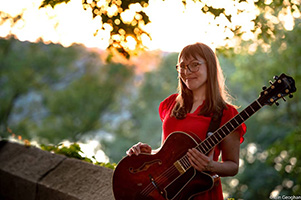 Jocelyn Gould has been called "a leader in the next generation of great mainstream jazz guitarists" by Howard Paul, CEO of Benedetto Guitars. Her joyful energy has captivated audiences around the world and her passion for music is infectious. She has absorbed the influences of the jazz guitar greats and has woven them into an exciting personal sound. Her unique ability to connect with audiences always leaves them wanting more.

Jocelyn Gould has performed internationally in the groups of Grammy nominated vocalist Freddy Cole, Trumpeter Etienne Charles and DownBeat Rising Star trombonist Michael Dease. She can be heard on albums lead by Michael Dease, Jon Gordon, Diego Rivera, Randy Napoleon and Will Bonness. She is the 1st place winner of the 2018 Wilson Centre International Jazz Guitar competition.

Jocelyn's debut release as a leader, 'Elegant Traveler', was nominated for "Jazz Album of the Year" in the 2021 JUNO awards. Elegant Traveler showcases Jocelyn's warm and inviting sound and melodic compositions with an all-star band.

Jocelyn is a professor and Head of Guitar Department at Humber College in Toronto.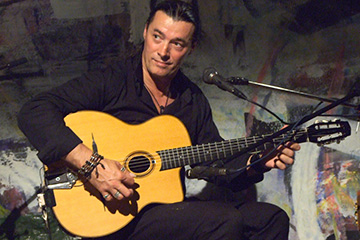 Lulo Reinhardt is, of course, the grand-nephew of jazz legend Django Reinhardt. But the family's musical ties run deeper than that for Lulo is also the nephew of the gypsy violin master Shnuckenack Reinhardt and comes from a lineage peppered throughout with highly talented musicians.

Lulo represents one of the most unique voices in gypsy-jazz music today. His Latin Swing Project (see http://www.myspace.com/luloreinhardt) combines pure gypsy-swing music with elements of Latin music such as flamenco, tango, and bossa nova.

Lulo Reinhardt is a spontaneous and spirited musician who is led by the guitar into musical voyages of discovery. His curiosity has taken him to southern Spain in search of flamenco roots, and to South America, exploring various musical styles of Latin Jazz. Lulo expresses his artistic personality in his gypsy influences, reflecting his character. Lulo Reinhardt's music reveals his enthusiasm for virtuosity and spontaneity and at the same time, a deep melancholy and nostalgia – more imagination than reality. Inspiration and feeling of the gypsies are moulded by Lulo Reinhardt into a rhythmic flowing symbiosis of elegance and spirit.

Lulo Reinhardt is from an enormous clan of Reinhardts to which belongs his grand-uncle, the world famous musician Django Reinhardt. However, Lulo says: "The audience often expects me to play exclusively in the style of Django Reinhardt but, as well as being able to do this, I have found a style of my own."

Lulo was taught guitar by his late father, Bawo, since the age of five. At only twelve years old, he was playing with the Mike Reinhardt Sextet, a formation entirely dedicated to the gypsy swing of Django Reinhardt. In 1991, Lulo moved on from the sextet to explore new musical experiences and founded, with his father and cousin Deg , "I Gitanos", which toured throughout Europe. The first results of their exciting 'new way' gypsy music showed a strong Latin music influence in which the master timbalero and percussionist Nicky Marrero participated, and led to the release of the CD, "I suni" in 1994. Since then, there have been numerous successful tours throughout Europe and the release of the next CD, "AB I Reisa" (1998). Meanwhile, however, Lulo worked on various projects and established for himself an international reputation as an outstanding composer and guitarist.

Lulo has played in numerous major events as Rock Gegen Hass, International Cultural Festival Sahara en el Coraz n (Algeria – with Brazilian guitarist Zezo Ribeiro), World Roma Festival Khamoro, Jazz Goes to Town (Czech Republic), Jazz and Blues Festival (Czech Republic), and many others.

The Lulo Reinhardt Project is the accomplishment of a maturing style and artistic creation, which defies classification. Swinging from tune to tune, Lulo Reinhardt injects into his music his gypsy roots as well as flamenco and Latin rhythms from Cuba to Brazil. After the success of his CD, "Project No 1" (2002), Lulo Reinhardt released the eagerly awaited, "Project No 2", (2005) to
critical acclaim.

In 2008 Lulo delighted new audiences in Australia during a small but highly successful tour. From this tour, a live album and DVD were produced. Then in 2009 and again in early spring of 2012, Lulo toured successfully in the UK, Canada and the USA with the International Guitar Night show. Now, with a band of extremely carefully chosen musicians with whom he has worked previously joining him in his musical fantasia, Lulo Reinhardt has a world-class show with which to enchant
any audience.

Save

Save

Save

Save

Save

Save

Save

Save

Save

Save

Save

Save

Save

Save

Save

Save

Save

Save

Save

Save

Save

Save

Save

Save

Save

Save

Save

Save

Save

Save

Save

Save

Save

Save

Save

Save

Save

Save

Save

Save

Save

Save

Save

Save

Save

Save

Save

Save

Save

Save

Save

Save

Save

Save

Save

Save

Save